---
The outdoor season is here and with that comes more outside activities that involve interacting with Mother Nature. This is almost always a good thing but in some circumstances, these situations can be rough for those used to modern day conveniences, and unless Bear Grylls is your sidekick, you may want to prepare as best as you can for your next hiking or camping expedition.
Knowing that anything can happen in the great outdoors, and to make sure you enjoy it to it's fullest, make sure you take these 5 handy items to offset any risk in your outdoor adventure. Most of them are available at the Health Ranger Store.
Raw honey
Raw honey has multiple uses for the hiker or camper, and carrying even a small amount in a jar could prove to be one of the smartest things you pack.
Due to it's medicinal qualities, honey can be used to support energy, lung health, and may also be used for wound management. When you're tired, suffer from compromised airways, or have a deep scratch or burn, raw honey is an excellent tool to help you get fixed up and back on track.
Although any raw honey would prove to be helpful, manuka honey can provide even greater benefits due to it's potency.
Chlorella
The typical food items for camping and outdoor adventures usually includes plenty of granola bars, dried fruit, and other things that won't spoil easily, are light to carry, and can provide a boost of energy along with a couple hours of sustenance.
If you want to maximize your energy and nutrition with a lightweight product that boasts a high source of protein, chlorophyll, fatty acids, and a wide range of vitamins and minerals, chlorella would be an excellent option to  consider. This item alone could fuel your adventure adequately from a nutritional standpoint, and if caught in an emergency situation, would enable you to maintain your energy, strength, and wits until you were able to remedy the problem.
100% organic essential oil sets now available for your home and personal care, including Rosemary, Oregano, Eucalyptus, Tea Tree, Clary Sage and more, all 100% organic and laboratory tested for safety. A multitude of uses, from stress reduction to topical first aid. See the complete listing here, and help support this news site.
Consider the Health Ranger's Clean Chlorella tablets as an appropriate addition to your excursion.
Clean water
No one heads out on an epic hike or camping trip without plenty of water, but the question is, what is the quality of it? Since water is essential to life, but is also one of the most contaminated things on our planet, you have to be very careful of what you put in your water jugs and bottles.
The absolute best solution is clean spring water, but that is quite hard to come by as you'll need access to a real spring or distributor that bottles it properly. Unfortunately, the claims made on most water bottles that it contains spring water is false, and the majority of them are also housed in plastic, which will eventually contaminate the water with xenoestrogens (man-made estrogen mimicking molecules).
If you can't get your hands on true spring water, get a Big Berkey system with the appropriate filters to take out fluoride and other contaminants, while still keeping precious minerals intact. This will ensure you have the cleanest source of water you can get so you can stay properly hydrated (which many other water sources don't do well) during those long hours outdoors. Simply put the purified water in your desired containers.
Colloidal silver
Colloidal silver is another safe and effective natural solution to supporting many areas of your body, including your immune system, your skin, respiratory system, and digestive system. Having it with you on an outdoor excursion can prove helpful in many practical and emergency situations you may encounter when in the wilderness. For a full list of colloidal silver benefits, check out these ten ways to use it.
To pick up a highly reputable brand, get Sovereign Silver Bio-Active Silver Hydrosol – 10 ppm.
Multi-functional tools
When on a hiking or camping expedition getting the most you can out of each item is critical, due to the limited amount you can pack and carry. However, you also want to make sure you have every conceivable tool that would be helpful, because you can't exactly drive a few minutes to the local hardware store to pick something up. In this case, it's much better to be safe than sorry.
Items such as a hammer, knife, flashlight, saw, cordage, whistles, magnesium rod ignition, flint, screwdriver, tourniquet, wire cutters, wrenches, watch, compass, and can openers are just a few of the things you might find yourself needing in order to be properly prepared for any situation on an outdoor expedition.
The cool thing is you can get all of these tools in a few simple, yet highly practical inventions like this Ranger Gear Extreme Multifunction Shovel that also contains numerous tools inside the shovel handle.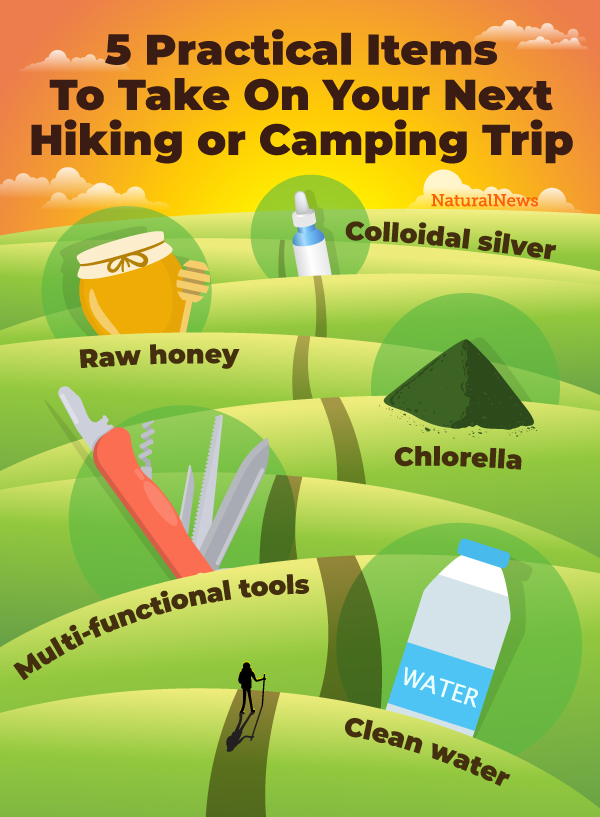 Being outside is highly encouraged for your health, and when the weather is right, it's a great time to be out in mother nature. However, we do need to realize there is a highly unpredictable component to interacting with other elements and animals without modern day conveniences, so just make sure you are prepared so you can enjoy it to its fullest! For more information on how to gear up for almost any situation, visit Gear.news.
Sources include: