---
How many more times do guns have to be used in self defense before liberals start to realize that an armed citizenry is necessary for any free society?
As reported by the Daily Caller, a gunman who attempted to rob children and families at gunpoint outside of a school in Sao Paulo, Brazil last Saturday was stopped by an armed off-duty policewoman and mother or two. Forty two-year-old Katia da Silva Sastre was able to draw her weapon and put three bullets into the gunman before he was able to do any damage to the innocent bystanders. The perpetrator, a man by the name of Neves Moreira, was hospitalized and later died from his wounds.
"I didn't know if he was going to shoot the kids or the mothers or the security guard at the school door," Katia told her colleagues. "I just thought about defending the mums, the children, my own life and my daughter's."
"I had to act quickly to end his aggression and prevent him from harming anyone," she continued. "I reverted to the training I have received in the corporation. It's gratifying to have been in the right place to have saved all our lives." (Related: A rampaging knife murderer in a Minnesota mall was stopped by a man with a concealed gun.)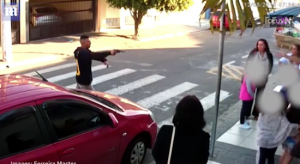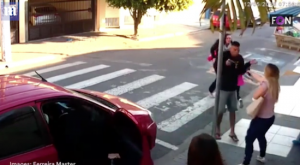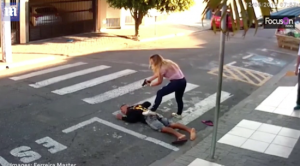 Several people have praised the policewoman and mother of two since the attempted robbery, including the governor of Sao Paulo himself, Marciso Franca. "It is not ideal that the suspect died," Franca said. "We would have preferred this had not happened. But it is a warning to those who take up a gun that they could be killed because our security professionals are well trained to protect the public." (Related: Guns save the day after a stabbing spree at a gun-free college in California.)
While it is true that Katia is, without a doubt, a hero, it's worth noting that similar events – that is, events where a firearm is used in self defense – happen quite frequently. Last December, Breitbart News published a list of the top 25 defensive gun uses of 2017:
January 2, 2017 – In Wilmington, North Carolina, Kay Dickerson was attacked while entering her apartment after work. Although the suspect was able to beat her and then tie her up in her bedroom using a broken belt, Dickinson was thankfully able to break free, retrieve her gun, and shoot the suspect dead.
March 21, 2017 – In Detroit, a 21-year-old attempted to break into his ex-girlfriend's apartment. Little did he know, however, that his ex-girlfriend's brother also lived in the apartment, and was able to open fire on the suspect before any serious harm could be done. When police arrived, they found that the suspect was also armed with a gun, meaning that he was likely going to try to kill his ex-girlfriend.
June 7, 2017 – In Indianapolis, 19-year-old Michael Hawkins attempted to break into an apartment but was met with force when a mother of two opened fire on the suspect, killing him almost instantly. Neither the mother nor her young children were harmed.
August 5, 2017 – In Lakewood, Florida, an elderly homeowner was with his wife one night when they heard somebody trying to break into their home. Startled, the man grabbed his firearm, confronted the suspect and killed him before he had a chance to do any harm. Law enforcement officials didn't say how many times the suspect was shot, but did confirm that he was dead by the time they arrived at the scene.
At some point, the liberals and the pro-gun control crowd are going to have to come to terms with the fact that firearms can be an effective tool that's used to save innocent lives. Thinking otherwise, at this point, is the very definition of ignorance.
Sources include: