---
When disaster strikes, bugging in is ideal if it's safe to stay at home. But if you have to bug out or evacuate, you need a secure bug-out location where you can stay until things settle down.
If the trip to your hideout takes longer than one day, learn how to build a sturdy shelter so you can rest comfortably during your journey. (h/t to ApartmentPrepper.com)
When building an outdoor shelter, you need to know how to select the best location and which stable design to use so you can stay safe as you rest on the way to your bug-out location. You may also need to build a temporary shelter if you get lost in the woods while camping or hiking, so making your structure durable and warm is key to your survival.
Follow the tips below to ensure that your outdoor shelter is safe and sturdy.
Choose the right site
First, choose the best site for your shelter. Is the ground in the area flat and easy to build on?
Is there recent foot traffic in the area, whether from wild animals or other humans? Try not to build your shelter on a game trail to avoid human hunters and animal predators.
If you're in a low elevation area, beware of any signs of flooding. Before collecting materials and starting building, choose a location that will serve you well while you're in the area.
Note that you may need to choose a different location depending on how long you'll be staying in the area. Short-term shelters will need to be built in a different place compared to long-term shelters.
For a short-term shelter, choose a site with caves, fallen trees, or rocky overhangs. Trees are a great shelter and they will also provide you with the materials you need to build with.
When building a long-term shelter, choose a site near a clean body of water and food sources like berry bushes and fruit trees. You should also consider if you want your shelter to be visible, especially if you're waiting for rescuers, or if you want to stay hidden when SHTF.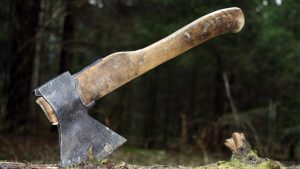 Choose an unobtrusive location for your shelter
Skip this step if you're building an outdoor survival shelter because you're lost and awaiting rescue.
But if you are trying to evade aggressors or attackers, make your shelter as unobtrusive as you can. Camouflage your shelter with brush from nearby plants and trees.
Elevate your shelter
If you're staying in your shelter overnight, use other materials, so you don't sleep on the ground because this makes it harder to maintain your body temperature. Sleeping near the ground also exposes you to moisture and insects that bite.
If you have your survival gear with you, try to elevate your sleeping mat and your survival structure, so you're not on the ground.
Choose a stable shelter design
When building an outdoor shelter from the ground up, you need to use a stable design so your shelter doesn't fall over after a breeze blows in the area.
Size and camouflage are also important, but if your design isn't stable, your shelter won't hold up long. (Related: Prepping checklist: Camping essentials to pack in your survival bag.)
A round design might seem spacious, but it may also be rather wobbly.
Try building a lean-to or a triangular shelter because they're usually easy to build. These kinds of shelters might seem like they don't offer a lot of space, but they're very stable and easy to insulate.
Here are other shelters that you can build while bugging out:
A-frame shelter
Body heat shelter
Frame and tarp shelter
Lean-to or open shelter
Log cabin (Ideal for a long-term shelter.)
Subterranean shelter
Teepee shelter
Insulate your shelter against the elements
You need to fortify your shelter to keep away wild animals and attackers, but you also need to watch out for the elements. While it's still light enough to see, gather materials that you can use as insulation.
Use moss, leaves and other dry underbrush and place them between two layers of a wall or on the exterior of your structure to help retain heat and keep out the wind.
Alternatively, you can design a shelter for better ventilation to prevent overheating during summer.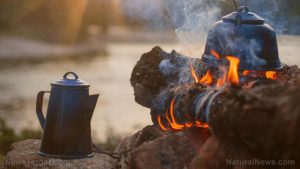 Heat your shelter carefully
It may get cold while you're bugging out, but you have to be careful while lighting a fire inside your shelter.
Build a shelter with proper ventilation so you don't choke on the smoke. If you're using sticks, logs and other flammable materials to build your shelter, keep an eye on your shelter so it doesn't burn down while you're trying to stay warm.
How long are you going to use your shelter?
Before you build your shelter, consider how long you're going to use it and make it as stable and warm as you can. Don't waste too much time and energy building your shelter if you need to stay on the move.
But if you're planning on staying in one area for a couple of days or so, choose a long-term shelter that will suit your needs, like a cave or a rocky overhang.
Tool you'll need to build your shelter
Before SHTF, prepare a bug-out bag with the following tools so you can build a stable shelter.
Blankets – Use a blanket as a makeshift roof or door for your shelter or for extra warmth.
Cords and ropes – Use it to lash poles together to create the framework of your shelter.
Fixed blade knife – For cutting cordage and small branches and notching poles for a secure fit before lashing.
Folding shovel – For clearing the ground before building your shelter or for leveling out the ground for your support poles.
Gloves – To protect your hands.
Hatchet – For cutting and debranching larger trees or cutting down trees if you're building a log cabin.
Lighter – Use a lighter to melt the ends of your cords and rope to prevent fraying.
Multitools – For sawing through smaller branches and loosening knots in cords.
Tarp – Use it as a door or roof for your shelter or for making a sling to store your supplies off the ground.
Zip ties – Use zip ties to attach smaller branches and poles or as a substitute for rope when building a temporary shelter.
When SHTF, you may need to build a short-term or long-term outdoor shelter. Build your shelter on a level surface and insulate it properly to protect yourself from the cold.
Visit Survival.news to read more articles with tips on how to build a stable shelter when SHTF.
Sources include: