---
Thousands of people were killed on Monday after a massive 7.8 earthquake struck populated parts of Turkey and Syria, many of them crushed in their homes as apartment buildings and businesses alike collapsed with no warning.
Images of the carnage were immediately posted to social media. In some instances, residents of the affected regions were able to take video of buildings the moment they collapsed or caved in.
Then, of course, there were miracles as well, such as this one: A small child emerging from the rubble of her home.
"After Turkey and Syria experienced the 7.8 magnitude earthquake, US Geological Survey recorded more than 60 aftershocks, including a major one at 7.5 magnitude," CNN reported on Monday as part of an ongoing update. "All aftershocks are individual earthquakes, but as long as they are not stronger that the original, main quake, they are considered aftershocks."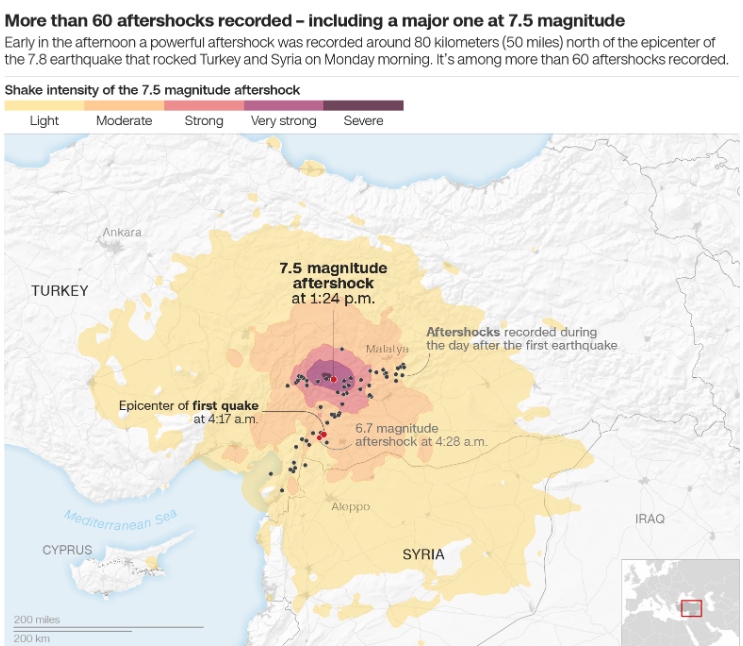 The outlet continued:
At least 5,606 buildings collapsed during and after the earthquake on Monday, according to Turkey's Disaster and Emergency Management Agency. 
There are a total of 19,574 rescue personnel working in the earthquake region for recovery efforts, an AFAD statement said. 
Turkish Airlines announced Monday that flight operations to Adana, Elazig, and Diyarbakir continue for citizens who want to reach the earthquake zone.
According to Afad's statement, the airports in Malatya, Adana, Diyarbak?r, and Ad?yaman are open to all flights. Gaziantep and ?anl?urfa Airports are only open to aid flights while Kahramanmara? and Hatay airports are closed to flights due to the earthquake damage, an AFAD statement said. 
"The U.S. Geological Survey said the first quake was centered about 20 miles from Gaziantep, Turkey, a major city and provincial capital, when it struck at 4:17 a.m. local time," NBC News added in its own report. "It was centered 11 miles deep, and a strong 6.7-magnitude aftershock rumbled about 10 minutes later. At least 20 aftershocks followed in total, some hours later."
"A 7.5-magnitude quake then hit about 100 miles north of Gaziantep at a depth of just 6 miles or so at 1:24 p.m. local time," the report continued. "Shallow earthquakes cause more damage."
Sources include:
Submit a correction >>